Sunday Waves – Sweat Your Prayers!
With Raven, 5Rhythms® Sweat Spaceholder, mentored by Visudha de los Santos.
5 Rhythms Dances will resume on March 17 and 31, and then from April on. Sundays from 5:30-7pm
Community Dance will fill in for 5 Rhythms on March 24.
Sundays from 5:30-7pm
What are the 5Rhythms?
Flow, Staccato, Chaos, Lyrical, Stillness
Created by Gabrielle Roth and practiced by tens of thousands worldwide, 5Rhythms® is a philosophy, perspective, performance art and a dynamic movement practice rooted in the principle that if you put the psyche in motion it will heal itself. Movement is both the medicine and the metaphor, reaching across all languages, cultures and age groups to transform suffering into art, art into awareness, and awareness into action. Wherever the 5Rhythms are practiced, a community is born to dance, to sweat, to change, to support and to provide a safe place for each of us to shatter the ego's hold and awaken the juicy, unpredictable, fascinating, edge-walking, rock star part of ourselves that yearns to be free.
Creativity. Connection. Community.
Want to learn more? Come dance and check out https://www.5rhythms.com/
Entering The Floor
Enter and stay in silence – say all that needs to be said with your body.
Move barefooted. (dance & orthopedic shoes are fine)
Acknowledge that you have entered a sacred space.
Start and stay moving – you can copy others if you feel  stuck or confused.
When the facilitator gives instruction, try the suggestions.
Dance with eyes open, preferably downcast.
Stay in the room, moving your body. Do not let yourself be distracted by anything.
Stay focused and be with whatever shows up:  e.g. Hunger, Thirst, Tiredness, Joy, Curiosity
Stay in the dance, even when you absolutely need to leave the floor.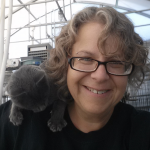 Facilitator: Raven Tompkins
Sunday Sweat
Me dancing is a miracle. I was born with a rare knee disorder; for most of my life my body was a cage and a source of pain. I had my second knee replacement in 2012. I was forty-eight. For the first time in my life I had two knees that worked.
I went to my first 5 Rhythms class with having no idea what 5 Rhythms is. I only knew there was a dance on Sunday morning and something inside me kept nudging me to go. A couple months later I was attending two classes a week and going to every workshop I could. I wanted more. I loved the clarity and how at home I felt in my skin after dancing. I still do. Waves on the floor began rippling out into my daily life in a way that felt like pure magic. I was used to hours or a couple days of mental debate when I edged up to the hard places in my life. Suddenly I found myself moving into edgy places so organically my brain didn't grok what had happened till hours later! The more I dance, the more me I become.
In dancing the 5 Rhythms I find that place of awe and wonder and I can take it with me. To be all in with myself, my body needs to come too. I need to embody my body. Making that connection of body to heart, mind and soul allows me to walk what happens on the floor in my daily life. I can touch wonder at work, in my friendships and even when I'm doing the dishes.
From dancing the rhythms I'm learning to flow with the unknown, draw on staccato when I need to take action and set boundaries. Dancing a little chaos is beautiful way to release the stress of a rough day or start moving those stuck places in me. In lyrical I can soar and shed separation. Resting in the stillness and listening brings me back to the eternal present.
One of my favorite things about this practice…it's an inside job. The teacher holds the container, provides guidance and music but what happens on the floor is between me and myself. When I move, I am the instrument of my own growth and healing.