No Class Thursday Thanksgiving Day, November 22, 2018.
Thursday mornings
9-10:15 am
$10
Gentle yoga focuses on healing and rejuvenation of the body. Yoga props such as blocks, blankets, bolsters, chairs and straps, are often used allowing the body to comfortably achieve the posture safely and gently. Gentle yoga moves at a slower pace and focuses on stretching all areas of the body, releasing tension from the joints, muscles, and fascia. This class leaves the student relaxed and renewed, reaping the benefits of restorative and active postures, breath work and meditative movement.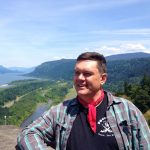 Rob Stewart signed up for his first yoga class in 1996 as an art student at The School of The Art Institute of Chicago. This initial experience had a profound effect on his life that still resonates. A dedicated student of yoga, Rob completed his first 200-hour training in 2000 at The Chicago Yoga Center, through the guidance of his teacher Suddha Weixler. He has subsequently gone on to complete an additional 500-hour therapeutic yoga training through UNM-Taos. Rob draws inspiration from various Yoga systems such as Ashtanga, Anusara, Iyengar, and more recently Myofascial Yoga with Dr. Kirstie Segarra. He combines elements of these practices with his knowledge of yoga philosophy, functional anatomy, structural alignment, and breath work. This combination, designed to both prevent injury and promote healing, invites the student to expand and explore a deeper mind-body connection in an uplifting and safe environment. Rob has taught in the Taos community for 15 years, including 9 years at Santosha Yoga, and continues to teach classes for UNM-Taos.