Spirit Flight – July 19 – 28, 2019
10 days in the Land of Enchantment with 
Visudha de los Santos and Chloe Goodwin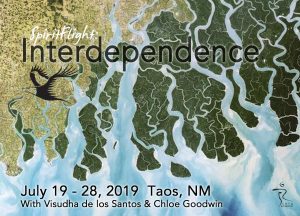 "Move and you will dance.  Dance and you will fly.  Fly and you will soar. Soar and you will know the Divine. Know the Divine and you will know Truth. Know the Truth and you will know the Mystery."-VDL
We often forget that WE ARE NATURE. Nature is not something separate from us. So when we say that we have lost our  connection to nature, we've LOST OUR CONNECTION to ourselves.                                     Andy Goldsworthy
In the natural world, everything intrinsically depends on everything else – every plant and animal holds a unique role in the collaborative co-creation of life. How do we remember we are also, intrinsically part of this?
In a culture that holds independence as a prime value – awareness is needed to know we rely on each other. In a society where so many of us feel isolated – courage and vulnerability are needed to create connection. In a system that separates us – practice in unity is needed: how do we lean into each other, be with each other, listen to, see, receive from and give to each other with grace?
In this ten-day immersion, Interdependence will be our teacher, our exploration, our mediation and our medicine.  Through movement, art, ritual and community we will seek the embodied wisdom of reciprocity and cooperation. We will dance in the balance of generosity and receptivity, strength and vulnerability, reliance and trust. Together we will expand into the field of possibilities available to us when we are interconnected, co-creative and collaborative.
The further human society drifts away from nature, the less we understand about interdependence.                          Peter Senge
"In many shamanic societies, if you came to a medicine person complaining of being disheartened, dispirited, or depressed, they would ask one of four questions: "When did you stop dancing? When did you stop singing? When did you stop being enchanted by stories? When did you stop being comforted by the sweet territory of silence?" –Gabrielle Roth
Indigenous people from all over the world use imagery of winged horses to signify a relationship with the Divine.  These magical creatures allow flight into the unknown, flight into the spirit realms and flight into the Mystery. Forging a relationship with Mystery's magic – feeling and sharing your energy, your nature and your trust – will take you far away to lands of enchantment, wonder and awe. But most of all, Mystery lets us fly to freedom.
Are you ready to surrender? Are you ready to meet yourself?  Are you ready to ride and fly high?  Are you ready to be liberated? Are you ready to be free from all that restricts you?
The most beautiful experience we can have is the mysterious. –Albert Einstein
Payment Options (Workstudy, Producers, & Certified Conscious Dance Teachers discounts available
Early by 6/1/19- $777                                    Standard – $888
Workshop fee includes: 5Rhythms Waves teachings, art supplies, nature explorations, live music, sound healing and daily tea service.
Workshop Fees do not include meals, lodging, and travel expenses.
​Refunds: Tuition is refundable minus $50 adminstrative fee until 2 weeks before the workshop commences.  After that, tuition is reimbursed at 50% until workshop starts. After workshop starts there is no refund except for emergency situations.
Workstudy awards:  Please make request to info at moveandbemoved.net.   If you are awarded a worstudy position, your payment is required to hold the workstudy space.  If you cancel your workstudy arrangement, tuition is refundable minus $50 administrative fee until 2 weeks before workshop commences. After that, tuition is reimbursed at 50% or costs until workshop starts. After workshop starts there is no refund except for emergency situations.
Scholarship awards:  Please make inquiries to info at moveandbemoved dot net.  Scholarships  are awarded between 25-50% workshop tuition. Scholarship awards only cover tuition. You will need to make transportation, lodging and food plans in addition to workshop tuition. Please only apply if you are 100% committed to attending the workshop in it's entirety, as there are limited scholarships available.
Payment Plans:  Please contact info at moveandbemoved dot net to arrange alternative payments, and payment plans.  If you are from a country whose income level is quite disparate ask about country rates.
Registration Link:
Bios: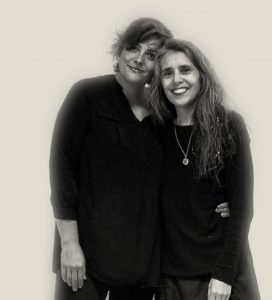 Visudha de los Santos 
is your spiritual midwife on this incredible exploration.  Artist, musician, healer and ritualist, she weaves a magical  transformative journey with grace, presence and love.I'm called to this body of work because I want all to know the experience of being, outrageously, and vibrantly alive.  My path, the dancing path, brings one face-to-face and heart-to-heart with the profound power of the primal, unrestrained self. If you want to know more about me and my journey, visit
www.visudhadelossantos.com
.
Chloe Goodwin is a Certified 5Rhythms Teacher and community maker in Santa Fe, New Mexico. She leads with  heart and humor.  An explorer of both shadow and light Chloe invites  inquiry into the sweet and the sour, the mundane and the magical.  With  20 years worth of questing on the dance floor, she brings big faith in  movement as a healer, community as a catalyst and creative process as  pure medicine.
There are many parts that can help you plan your experience and trip more thoroughly.
Please follow this link for transportation and lodging options:
Please join our facebook group to organize transportation and lodging with others.
Find more information about the workshop here: 
Please plan extra-time for sightseeing adventures, or one-on-one sessions with Visudha
Confirmation/Preparation letter mid June.  This letter will include all the details to make your workshop experience a grand success.  A welcome, framework, what to bring, how to prepare, final planned hours for each day, and instructions to the studio.  Additional instructions will be offered along the way. 
And if you aren't finding the answers easily, please email
info@moveandbemoved.net
, or call 575.737.8005 and we will see what we can do to help you.
Best regards, and looking forward to seeing you in the studio!
Venue:  TaoSatva
#2 Upper Las Colonias,
El Prado, NM  87529
Paypal link on:
www.visudhadelossantos.com or send
check to: PO Box 2686, Taos, NM  87571
Need more info?
info@moveandbemoved.net
575.737.8005
---
---
What are the 5Rhythms?
The 5Rhythms are both a process and practice for life.  Using movement and dance as a metaphor, medicine, and meditation  for life we move through 5 distinct rhythms.
In Flowing, we move inwardly listening to our body.  We nurture all movements as they arrive and allow exactly what arises and what is needed.  We start with our feet and let waves of motion move through our entire body.
Through nurturing the self, we find enough energy to begin expressing and move outwards  With the rhythm and percussive beat of Staccato we find with purpose, clarity, focus and direction.  Hands, hips and hearts lead the way to connection and community.
In the rhythm of Chaos we find the complexities of life and surrender to it.  Through softening we find ways to let go that which we can't control. We release tension, energy and knowing surrendering to what actually is.  Shaking out energy we find the field of creation.
Reaching this field of creation is a portal to the rhythm of Lyrical.  In Lyrical we find ourselves expanding into our own infinite potential, and into authentic creation. No longer mimicking others, we express the essence of our own being – that which has always been there yet hidden by automatic and learned behaviors and beliefs.  We allow in light, spontaneous, joyful expressions and creations. The true self emerges and we feel the sense of coming home.
Finally we reach the final rhythm – Stillness – where we find the sense of wholeness and holiness all at the same time. We meet that which is bigger than us through the known sense of awe and wonder of the universe, of life and death.    We arrive into great presence, gratitude and grace knowing the miracle and gift of life.
Each time we practice these rhythms we change the embodied belief to an embodiment that reflects our true nature – that of love and grace.
What are the benefits of the 5Rhythms®?
As we practice the 5Rhythms® moving meditation over time, the positive effects spiral through our bodies, hearts and minds.
Movement releases endorphins and lubricates the joints
The dance strengthens the heart, increases energy, lowers blood pressure, strengthens and builds bones and muscles
We feel radiantly alive and calm at the same time
We move from thinking about life to intimately feeling life with our bones, our feet, our muscles, our blood
We enjoy the miraculous bodies we have, rather than lamenting their limitations
The tight spots in our hearts soften – so we can cry when we're sad, jump when we're joyful, reach out when we're touched, love and be loved without hesitation
The limiting affects of family and societal programming melt away as we come into our authentic selves
Our minds settle, and the jagged world of thinking and planning fade into a sense of peaceful silence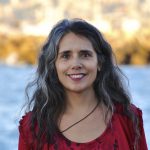 Visudha de los Santos
Move And Be Moved
www.moveandbemoved.net
(575) 737-8005
Follow 5Rhythms:

Facebook
Follow GongJourney(r)

Facebook