Instructor: Kirstie Segarra, Ph.D.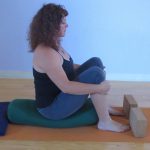 9-10:15 am
Tuesday mornings
$10
No class on Christmas Day, Dec. 25, 2018.
Free New Year's Day Class January 1, 2019!
To contact Kirstie by e-mail: kirstie@taosnet.com
Call (575) 770-1274.
Her yoga schedule is posted at drkirstie.com.
Dr. Kirstie is a structural yoga therapist and places an emphasis on creating a safe environment for prevention and for those interested in healing from injuries. Her classes are taught with a combination of longer holds to affect the Myofascial tissues to dynamic postures to affect the nervous system. She draws on her experience and knowledge of the human body as a Structural Integrator, Doctor of Integrative Medicine and as an instructor of anatomy and physiology.
She taught for 9 years through Santosha Yoga and continues to teach classes through UNM-Taos.
What you can expect in her classes:
We start on time.
Every class offers new sequencing to target a variety of areas in the body.
She draws on Ayurveda, Oriental Medicine, Functional Anatomy, Feldenkrais and a sense of humor.
Baby-Steps (teaching how to build a strong core practice with an emphasis in somatic awareness).
Individual attention.
We use props, blankets, straps and bolsters (Which are provided, along with mats).
She is passionate about structural yoga therapy and brings 20 years plus of experience in my role as a yoga teacher.